Decades ago opening a dental clinic in the Western part of Hungary became a flourishing business and one clinic after the other was opened to meet the needs of Austrian and German clients coming for cheaper but good quality treatment. Over the following years dental clinics were mushrooming in Hungary attracting more and more patients from Western European countries. Dental tourism developed into a major attracting force of the country and Budapest became the dental capital of Europe.
What attracts dental tourists to Hungary?
The advertisements of Hungarian dental clinics and foreign media highlight the professional level of treatment available at reasonable prices. The level of service even exceeds that of clinics in the USA or UK. Hungary is well-known for its excellent dental education and membership in international dental organizations. Since 2008, Hungary has been a leading country in this sector and according to market estimates one in five patients looking for dental treatment abroad choose Hungary.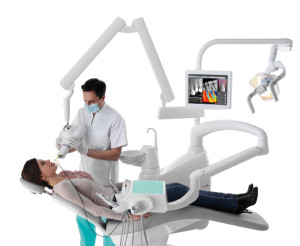 Altough there are no exact figures on dental tourism, according to the data of the Hungarian central tax bueau NAV, about 500 of the 2600 domestic dental companies deal with a high number of foreign clients. In the dental sector alone each year a revenue of HUF 65 billion – 70 billion is generated by dental tourist arriving in Hungary. And we have not mentioned the related industries such as hotels, catering and other tourism services that also gain an additional HUF 13-16 billion yearly. In 2011 the major sending countries were the UK, Germany, Italy and France.
The proportion of foreign clients vary from dentist to dentist. Some clinics reports only one tenth of its clients coming from abroad, others reach 80%. These visitors spend Euro 1400 – 4000 during their 5-7 day-stay on average and save up to 60% compared to the treatment prices in their home country.
Dental clinics in Hungary try to attract forign customers trhough websites registered abroad or agents working for commission. They receive no direct aid from the goverment and the sector is not in the focus of state marketing either. Though the sector achieved all of its successes on its own, it is a leading revenue generator. The first step of the cooperation between the goverment and the dental clinics was the HUF 1 billion funding the National Development Ministry for dental tourism developement last year. The so-called Hungarian Dental Tourism Developement Program aims to triple the number of foreign clients in five years, to stop the emigration of Hungarian dentists and to make Hungary a world leader of dental tourism.
Foreign competitor countries such as Croatia, Turkey, Bulgaria and Poland can compete with lower prices due to touristic opportunities supported by state aids and marketing. And also sending countries reduced their prices in recent years to be competitive with neighbouring countires.
However, dental tourists spend billions of forints each year in hotels, restaurants, bars, sightseeing buses, museums, taxis etc., the state did not published a single image to advert Hungary as a potential dental tourism destination. Despite all the difficulties dental businesses must face in Hungary, the country aims at a bigger bite of dental tourism in the near future.