Current weather conditions and weather forcast Budapest, Hungary
Hungary has all four seasons, even though temperatures have become higher than they used to be. It is snowing more rarely in winter, and the summer gets hotter and hotter every summer. Luckily, the country is full of water parks, lakes and rivers that serve as shelters from the heatwave.
Spring and autumn are significantly shorter than the other two seasons, and they are getting extreme as well. Instead of a mild transition, hot and cold days follow each other, so if you prefer nice weather, then April-May or September-October are the best choices.
The rest are either cold or hot. From June through August, it is not surprising to feel the heat of 40 degrees on your shoulder if you come here, but winters are not that extreme. Sometimes, it happens to be as cold as minus 20 degrees Celsius, but it is more commonly around minus 10 and 0. Spring and Autumn are only windy and rainy, but if you spend this time in hot thermal water, it is quite pleasant as well.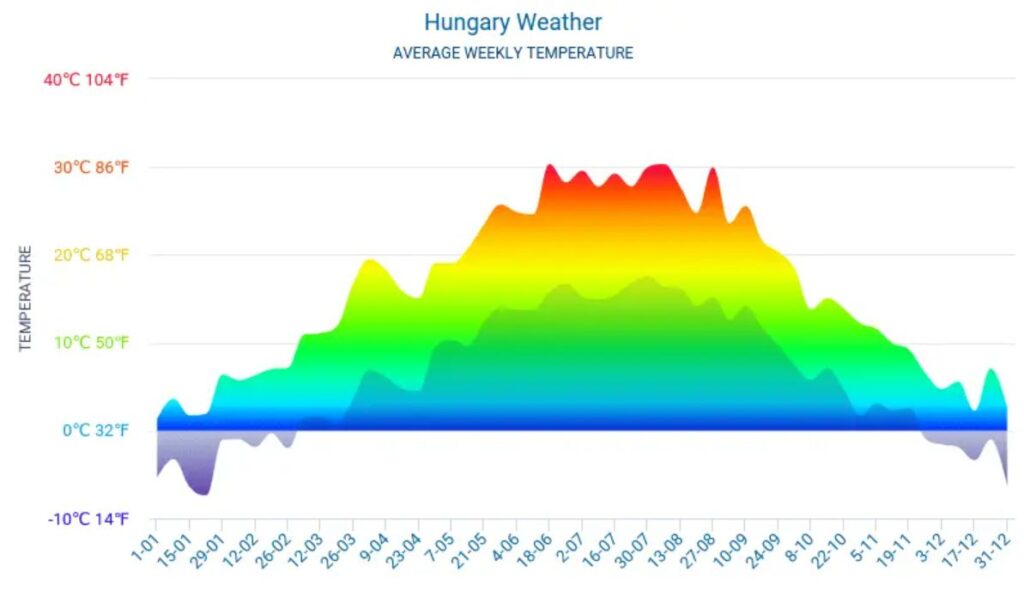 As Hungary is surrounded my mountains and it lies in a huge basin, it is protected from extreme weather, so no tornado, drought or earthquake is likely to occur here, although floods are quite common after the snow melts in the Carpathians. Still, due to the mild winters, it happens less and less often, as there are not only less snow in the basin, but also in the mountains. As for extreme summers, there are dry periods, but due to the abundant water supply that Hungary has, there is always enough to feed the plants.
As you can see, due to the nice weather of the four seasons and the protection of the Carpathian mountains, it is always a pleasant experience to visit Hungary, especially, if you head for water parks or spas.